The reputation of CEOs and senior executives is a fundamental driver of a company's reputation. A recent survey from Weber Shandwick tells us that "global executives estimate that nearly one half of a company's market value is attributable to its CEO".
This research is specific to large corporations but the lessons we can learn from it apply to business leaders of companies of all sizes.
As Michael Fertik, founder and CEO of reputation.com, says, "Reputation is the new oil." This "CEO factor" exerts enormous influence over corporations and within the industries they operate and should not be underestimated.
This is not surprising news. But what is new is the media environment in which senior executives and companies operate and that make it harder than ever to get heard in the crowd or to leave a lasting impression. There are changes too in terms of the relationship with traditional press outlets and other media, the use of social media, and also how people search and find information.
The key change is that senior executives can now express their views directly, in particular through social media specifically targeted at journalists or specific business communities. There is no longer any need to wait to issue an official media release, or choose "the right moment" such as a press conference or other major event. These moments remain important for a company's official communication but the CEO or senior executive now has the opportunity and the tools to communicate on their own terms and in their own time.
But not all executives will have the right profile. Perhaps more worryingly, not all executives are aware that they do not have the right profile.
What makes a CEO respected?
Let's return to the research from Weber Shandwick that asked senior executives to rate their CEOs. This graph shows the points that stand out. The overall positive opinion of a CEO is boosted by factors such as having a clear vision and a global business outlook, or being a good communicator. Perhaps the most obvious difference between a highly regarded and a poorly regarded leader is that they inspire and motivate others.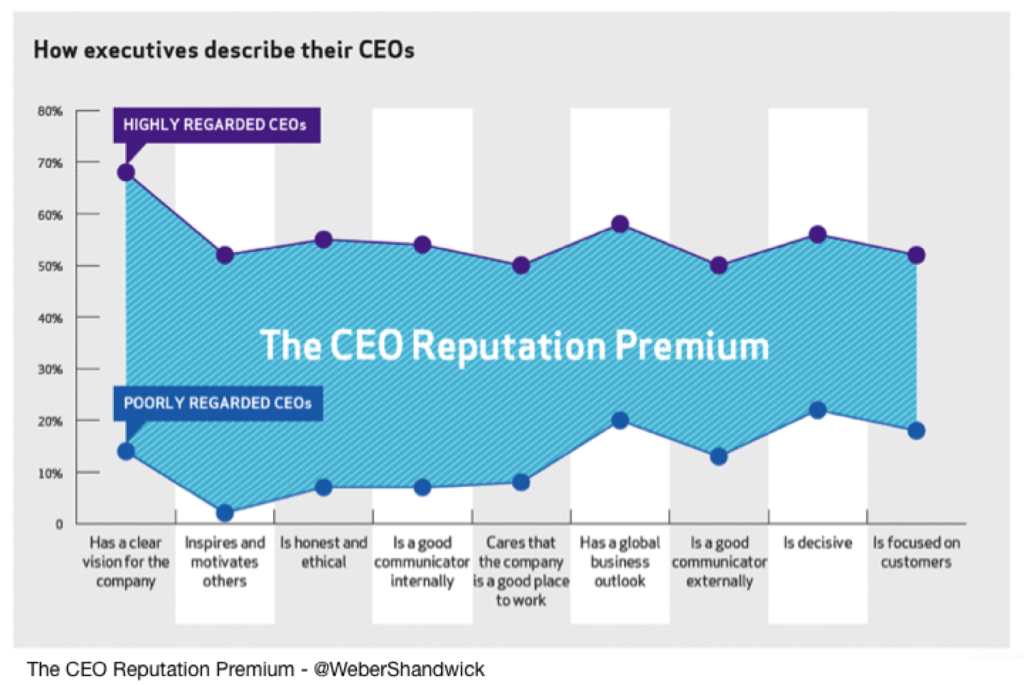 "In a previous survey Weber Shandwick found that 76% of executives want their CEO to be present on social media."
Other research tells a similar story in terms of what employees think of their leaders and specifically their suitability to communicate via social media. Elsewhere we find that customers and clients are more likely to purchase goods or services from a company when they see that the top executives are present on social media. This of course assumes that they are saying the right things and in the right way. A level of risk is present at all times, so the social media presence needs to be managed and thought through.
Further figures from the Weber Shandwick research underline this point. And it is not North America that leads the way. Executives in Latin America, Asia Pacific and Europe give a greater endorsement to their CEOs being visible on the Internet, using online videos and social media, than their North American counterparts. In all cases a clear majority believe that their company would benefit from their CEOs having a visible public profile.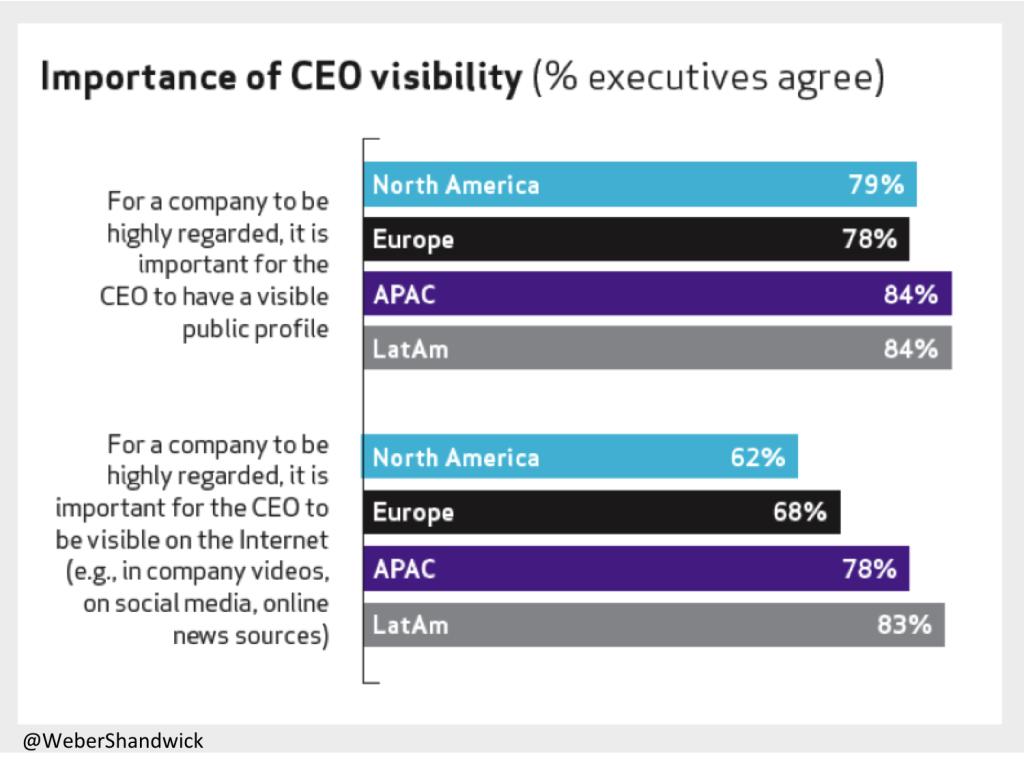 What position to take?
Before we come back to the subject of social media let's first look at the type of position that a senior executive should be taking to influence and to build a reputation.
We should at this stage assume that we are not dealing with a leader such as Bill Gates or Richard Branson. These, and a few other select names, are clearly outstanding individuals who have become highly visible through a combination of a successful business career and a presence in industries that have lead the way in terms of innovation and media presence.
Not every CEO has all the personality traits required to be a natural communicator and are often in industries that are seen as less exciting to the public at large.
We should rather look at this question from the point of view of a CEO in a less well-known industry and one whose objective is to expand their reputation from their own specific sector.
To build a reputation the CEO needs to show expertise and a vision of trends – anticipation of how today's actions will impact tomorrow's results. To successfully communicate these ideas they must also show leadership – inspiring others to act.
When they speak they need to do so at the right time, to be relevant to the audience and have a forward-thinking approach.
To be believable and interesting, they should keep their voice authentic, write about a specific area of expertise and express an opinion.
Become proactive to occupy your rightful space
So why should bosses turn to social media to do this? Before we look at all the positive reasons, we should perhaps first discuss some of the risks of not engaging on social media.
Conversations are taking place on Twitter, LinkedIn and many other social channels permanently. As with any method of communication, from gossip in the street to discussion in respected media channels, these conversations will happen whether the company or the CEO of the company are part of them or not.
If there is a gap or some uncertainty about a piece of information, others will fill that gap by finding "the facts" and presenting them according to their own agenda. Or it may just be easier to make a guess and suggest what the facts are and start a rumour or incite a knee-jerk reaction from the source.
If you are potentially a primary source of the information but do not speak, others will shape the story in your place. At best, this will mean that someone else is taking the position that could be valuable to you. At worst, negative messages will fill the space and it will become increasingly difficult to counter these false claims.
To avoid this you must become proactive. CEOs can quickly learn how to use social media to do this. By positioning themselves correctly, and managing that positioning, they can build a reputation, become a reference point and be respected. When they speak (or write), their opinions will be taken as likely to be true rather than questioned or constantly checked and reduced in importance.
In marketing terms this would be translated as building a brand. That brand building can be the company brand now supported by an emerging CEO brand. Alternatively it can be the CEO's own personal brand. In either case, it is essential to understand and to manage the link between the two to avoid contradictions and to use the two to strengthen each other.
"In today's hyper-connected, information-driven world, CEOs and senior executives alike are expected to have an active social presence. Brand image, brand trust, and a company's long term success depend on it."  Ann Charles, BRANDfog Founder & CEO
This article is also published on LinkedIn Pulse
https://www.linkedin.com/pulse/thoughts-ceo-reputation-social-media-robin-young
Read why a CEO should be on social media here
A social CEO is seen as more accessible. 
A social CEO is seen as modern. 
A social CEO can react quickly. 
A social CEO is a leader. 
A social CEO strengthens their company's communications strategy.